MArteLive – A lifetime opportunity for young and emerging artists
After 20 years of experience in Italy, where thousands of young people have expressed their creativity and started a professional artistic career, for the first time MArteLive will give the same chance to all young artists around Europe. – MArteLive.eu !!!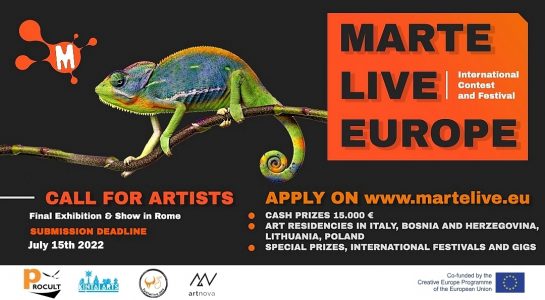 MArteLive is an international competition and festival open to European citizens, young people between 18 and 35 years of age. The project is supported by the European Union (Creative Europe program), where by this competition includes and connects more than 10,000 artists.
Association "TUZLA LIVE" from Bosnia and Herzegovina, together with partners from Poland and Lithuania and project leaders from Italy, opens a public call for young creatives in 16 artistic disciplines: music, DJ & producer, theatre, dance, contemporary circus, literature, painting and drawing, sculpture, photography, digital illustration, street-art, fashion design, handicrafts, short film, music video and video art. This is not only an opportunity to present their work to an international audience, but also to be noticed by world-famous and influential institutions and individuals in the various fields of art and culture.
Combining online and live auditions, semi-final performances, art colonies across Europe and the final festival in Rome, MArteLive Europe is a truly unique opportunity for all young, creative people looking for a new, memorable experience in which their talent will come to life in front of thousands of people. Furthermore, the work of young artists will be judged by an international jury, well-known and recognized professionals from each of the listed disciplines!
Read more about the competition, it's stages, the application process and the international jury at Webpage ili na facebook page and Instagram profile of the festival.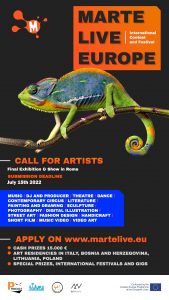 Project is supported by Creative Europe programme and Ministry of civil affairs of Bosnia and Herzegovina.
#martelive #marteliveeurope #creativeeurope #artprize #artcontest #artfestival #performingarts #visualart #emergingartists #youngartists #talent #circus #contemporarycircus #photography #painting #drawing #sculpture #dance #opencall #callforartists #handicraft #fashion #design #literature #publicreading #writer #fashionshow #joinus #film #shortfilm #movie #shortmovie #musicvideo
Tags: artcontest, artfestival, artprize, callforartists, circus, contemporarycircus, creativeeurope, dance, design, drawing, emergingartists, fashion, fashionshow, film, handicraft, joinus, literature, martelive, marteliveeurope, movie, musicvideo, opencall, painting, performingarts, photography, publicreading, sculpture, shortfilm, shortmovie, talent, visualart, writer, youngartists
Trackback from your site.