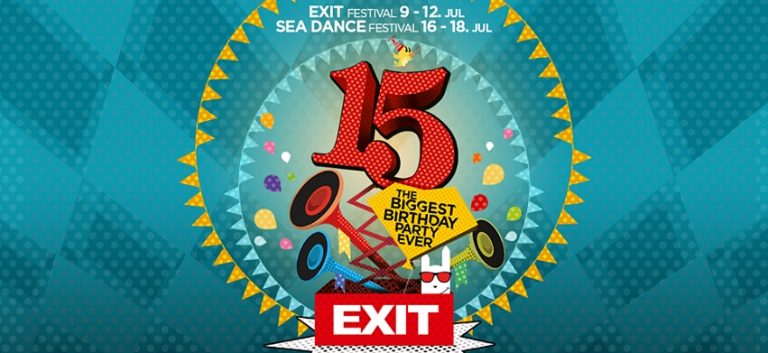 Spremite fanfare: EXIT slavi 15. rođendan!
EXIT FESTIVAL 9-12. jul 2015. Petrovaradinska tvrđava, Novi Sad. SEA DANCE FESTIVAL 15-18. jul 2015. Jaz, Budva.

Od svojih skromnih, ali hrabrih početaka, kada je 2000. godine osnovan kao studentski pokret u borbi za slobodu i demokratiju, EXIT je tokom 15 godina izrastao u 'Najbolji veliki evropski festival'! Pored ove prestižne titule kojom je okićen u januaru ove godine, EXIT može da se pohvali dosadašnjom posjetom od preko 2,5 miliona ljudi iz preko 60 zemalja iz cijelog svijeta, kao i statusom neprikosnovenog muzičkog i turističkog događaja u cijelom regionu.

Ogroman međunarodni ugled, povorke fanova iz čitavog svijeta, nevjerovatna lokacija i jubilarna godina obećavaju da će naredno izdanje EXITa biti jedno od najboljih do sada! Veliku rođendansku žurku obilježiće nastavak sedmodnevne ljetnje EXIT avanture! <strong>EXIT festival biće održan od 9. do 12. jula</strong> na Petrovaradinskoj tvrđavi u Novom Sadu, dok će drugi po redu <strong>Sea Dance Festival biti održan od 15. do 18. jula</strong> na plaži Jaz u Crnoj Gori.

Rock@EXIT festival koji je uspješno lansiran prošle godine sa Queens Of The Stone Age kao headliner-ima, ove godine će biti predstavljen tokom festivala kao posebna cjelina, u okviru koje će nastupiti neki od najzanimljivijih rokenrol bendova iz zemlje, regiona i cijelog svijeta! Najave prvih izvođača očekujte uskoro!

Na EXITov jubilej pozvani su svi, od petnaestogodišnjih vršnjaka festivala rođenih te davne 2000. godine, sve do dobrih, provjerenih EXIT fanova, koji su svojom energijom festival i izgradili, a koji su danas možda roditelji tih istih petnaestogodišnjaka!

Trenutne cijene ulaznice za festivale i kamp:

ULAZNICE ZA EXIT AVANTURU (EXIT FESTIVAL + SEA DANCE): 138 KM

ULAZNICA ZA EXIT FESTIVAL (4 dana): 116 KM

ULAZNICA ZA SEA DANCE FESTIVAL (3 dana): 82 KM

ULAZNICA ZA EXIT KAMP: 53 KM

ULAZNICA ZA SEA DANCE KAMP: 53 KM

Ovo je čak 50% popusta u odnosu na regularnu cijene EXIT i SD ulaznica!

ULAZNICE MOŽETE KUPITI NA PRODAJNOM MJESTU:
TUZLA
"TATZOO" Tattoo studio (Google Maps)
Zlatarska 3 (kod Kapije), 75000 Tuzla

Sva pitanja slobodno postavite preko: tel. 062-761-331 ili email: info@tuzlalive.org


Trackback from your site.